At Aquatek Water Conditioning, we are strong promoters of preventative maintenance. One of the most frequent questions we receive from our customers is, "What pond products can I use to help keep my pond healthy, clean, and beautiful all year long?"
Maintaining a pond can be an ongoing challenge. A pond is an ecosystem that is constantly changing due to the environment and nature. It is much more difficult to control the water in your pond like you would in a pool.
Preventative Maintenance seems to be the name of the game when trying to keep your pond healthy, clean and beautiful. Many of our customers utilize a combination of pond dye and naturally occurring bacteria on a monthly basis. They report to us that this combination really helps them stay on top of common issues such as weed, algae growth and overall muck prevention.
Keeping our customers in mind, especially those who use their pond as a potable water (or as a drinking) source, we searched for a company with FDA approved products that we could stock in our store. Sanco Industries produces products are 100% safe for humans, fish, livestock, pets, birds, swimming, potable water, and irrigation. Customers have had a lot of success using the Crystal Blue line of products from Sanco Industries .
This graphic from Pond Champ's blog post "The Ongoing Process of Pond Maintenance" published in 2020 describes the cycle well.
Pond Dyes, such as Crystal Blue, do more than just give your pond a beautiful blue color. Pond dyes, in general, can be described as sunscreen for your pond. They give a level of UV barrier from the sun, which can help slow down the growth of algae and weeds. As an added bonus, the dye gives your pond a beautiful color.
Crystal Blue is our most popular colorant. The manufactures recommendation for application is to pour one gallon of dye per, one surface acre into the pond. Application depends on customer preference and can be left up to some experimentation. Frequency of application is going to depend on the weather. You may need to apply more frequently during periods of rainy seasons versus drier times. Customers who use pond water drinking systems should not dose more than the recommended application, as otherwise, they run the risk in having the colored water move through their system into the home. If this happens, the water is completely safe to drink, but could have a blue tint.
Another colorant we carry is Ocean Blue, which provides a more turquoise, ocean-like color. It is a great option to start with if you are worried about going too dark. Application is the same as noted above.
Additionally, we carry Sapphire Blue, which provides a more natural, lake looking color. It appears darker and is great for customers who want to keep their pond looking a little more natural.
The same pond dye/colorant in the same pond can look different depending on several factors: what issues the pond is experiencing, what color the pond is before dye is added, or even the time of day.
The image below shows a pond whose owner used Crystal Blue from a similar angle at different times of the day.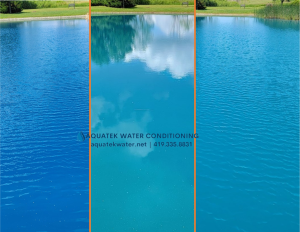 The other preventative maintenance product we carry is Natural Pond Cleaner. This formulation is comprised of naturally occurring bacteria that helps eat away at the muck and dead vegetation in your pond. It is one of the healthiest things you can do for your pond, and there is no over application! It isn't a quick fix for thick muck situations, but when used regularly, it can make a marked difference in the overall health and feel of your pond.
And for those of you who like a two for one application, we carry a product called Pond Booster. It is a combination of both Crystal Blue and Natural Pond Cleaner. It's specially formulated for colder temperatures and is a great spring and fall application. We have customers who use Pond Booster all year round. They love the convenience of having both products in one bottle!
We are by no means experts in pond maintenance, but we do receive questions from our customers about maintaining their ponds. We make it a point each year to have representatives from Sanco Industries and Pond Champs share product information, applications and trends with us so that we can best help our customers with their pond needs. When we don't know, we simply contact the experts that do know so we can get you the information you need to maintain that healthy and beautiful pond!