Warm weather is on its way and thoughts of lazy summer days of children playing outside for hours on end and swimming may be floating through our minds. Many enjoy a pond on their own property for many reasons — the beauty, the refreshing dip in the pond after a long, hot day, the fishing, and social events. For many, it is a water supply "lifeline" for home or barn usage.
If you follow our Social Media pages, you may have noticed the announcements about our Pond Maintenance Seminar, which we hosted on Facebook Live on May 14th, 2020. The seminar is a favorite with pond owners who want to learn more about maintaining a clean and healthy pond. This was our first time conducting a seminar online instead of in-person at our shop as we have in previous years. Although it was different, we are thrilled that we were still able to answer so many pond owners' questions virtually. If you missed it, you can check it out here. Watching the video and even reading through the comments has been helpful for so many pond owners in learning how to manage some common pond issues!  We are already planning for our Pond Seminar in 2021. Stay tuned for more information! 
What's the Big Deal About Ponds?
Ponds are important to us because they are important to our customers! Many homes throughout our service area rely on ponds for their drinking water source. In many cases, this is the only means for water into their home or barn due to low water tables or other issues such as high sulfur content found in areas throughout Northwest Ohio and Southeast Michigan. The systems we install meet the requirements of the Ohio Department of Health and are completely safe for drinking, bathing and cooking. This time of the year, we are busy preparing and planning for maintenance on our Pond Water Treatment Systems!
Avoid "No Water" situations by Changing Pond Filters Yearly
Maintaining Pond Water Treatment Systems properly is essential to keeping water safe and flowing into the home. We recommend maintenance every four years on the backwashing filters and changing the floating pond filter on an annual basis. This can prevent a lot of future and costly headaches for homeowners.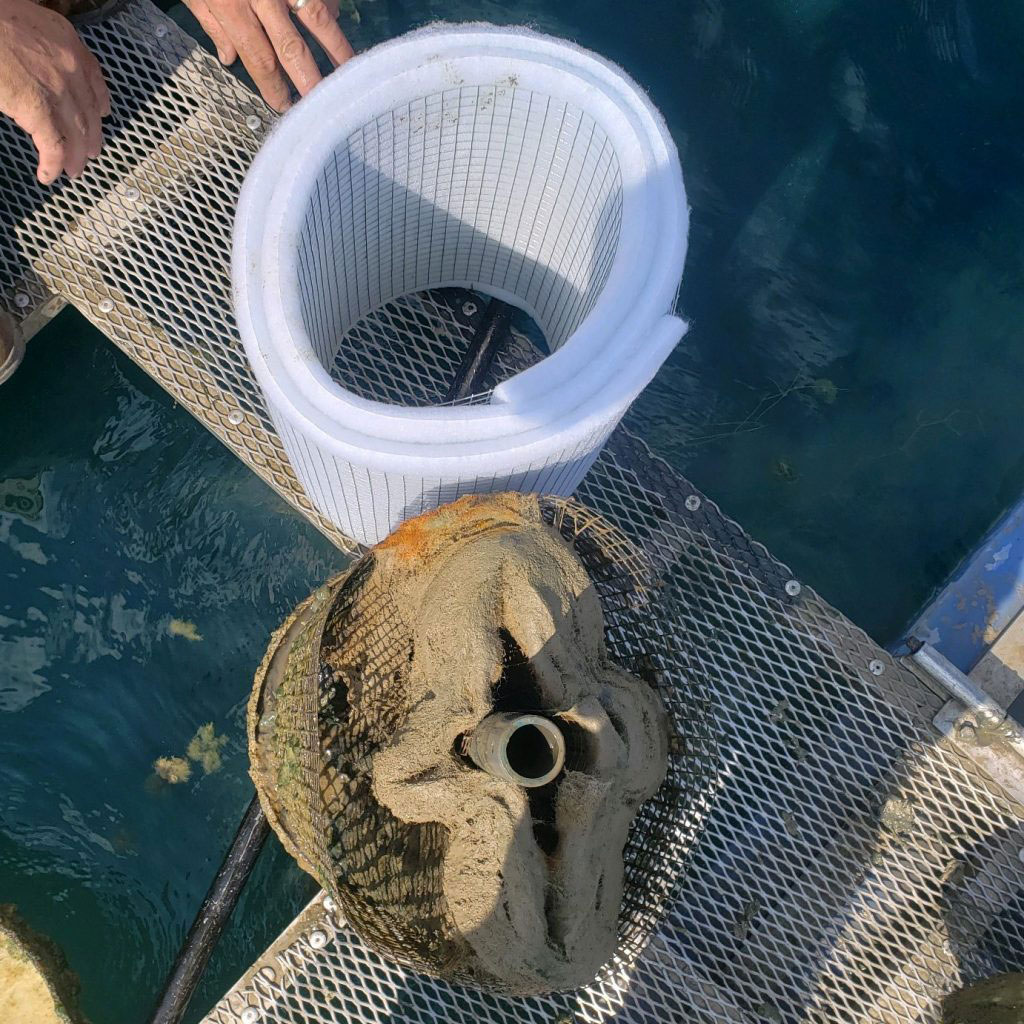 Pond Filter Maintenance is vital and can prevent situations in which home owners have no running water to their home and/or barn. We recommend changing pond filters annually. The photo on the right shows a collapsed pond filter, next to a brand new filter.
Owner Brandon Schindler Talks About Aquatek's Pond Filter Change Program
As Brandon mentioned in the above video, pond owners are welcome to change their own filters, we carry all of the products needed in our store. In addition, we've recently added these products to our online shopping page. Now you can order your products online and pick them up at the store, order them online to add them to our delivery route, or even have products shipped directly to you through the Online Store! Or, drive to our store in downtown Wauseon, and we'll provide you with curbside service!
Aquatek's Pond Filter Change Program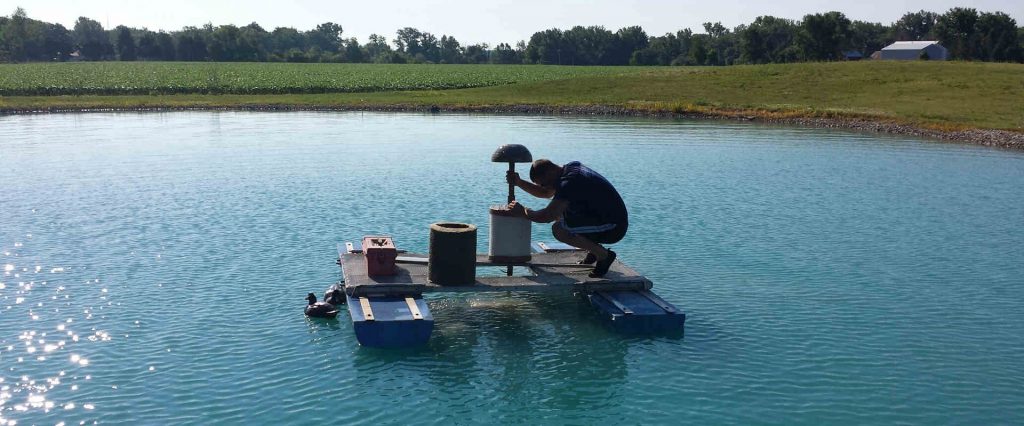 June, July and August are prime months for changing pond filters. Aquatek's team will efficiently and effectively change filters for pond owners as seen in the photo to the left.
If you are busy, don't have a raft, or simply would just rather us take care of changing your filter, we are currently running a special pre-pay price for Pond Filter Changes through May 28th, 2021. The cost is $135 (includes filter, labor and tax). If you choose to have our team change the floating pond filter, don't delay getting your name on our list. Prices and availability increase after May 28th, 2021.
To Schedule a Pond Filter Change
Call our store 419-335-8831
Email us at info@aquatekwater.net
Pay online by clicking here

 
Please note: Our team must have access to your pond:
A seven foot wide area on the pond bank must be clear for our team to change the filter.
Need to be able to get through gates, driveways, around fences, etc.
Pond filter changes are only available in our service area of Northwestern Ohio and Southeastern Michigan. If you purchase this service, and are out of our service area, we will contact you and refund your money. Call us or email us if you would like to verify first. 
Surcharges will be added to:
Any filter change that is not pre-paid by May 28th, 2021
Sunken filters (Sunken filters will be changed on a scheduled route and incur additional fees)
This is a special price; you will not be invoiced for service.
It is our pleasure to continue to serve Northwest Ohio and Southeast Michigan. It is our goal to help you to #TakeControlofYourWater!